Fortnite Boosting
We boost on all platforms - PC, XBOX & PS4
What if I'm not comfortable with letting you play on my account?
We understand that this is a concern for some, so we also offer duo queue boosting where you are able to play on your own account and squad up with our boosters to get those Victory Royales together!
How many kills will my booster get?
You can expect an average of 5 to 8 kills per win. Generally our boosters play to the best of their ability to get you your wins, which of course includes playing aggressively to get good loot and materials in the early game.
How long will my order take to complete?
Unless you are making an unusually large order, we're confident we can finish your order within the same day of your purchase.
"Exody is crazy good, we got 5 Fortnite duos wins in a snap. He was really fun to play with and provided great guidance. Would highly recommend!"





josh20mn
5 Duo Wins Boost
FORTNITE
"Really amazing and quick service"





ninja
3 Wins Boost
FORTNITE





ninja
Arena Boost from 0 to 500
FORTNITE





ninja
2 Wins Boost
FORTNITE





Anonymous
Arena Boost from 247 to 301
FORTNITE





Anonymous
Arena Boost from 274 to 300
FORTNITE





Anonymous
Arena Boost from 341 to 400
FORTNITE
"Exody was great! I will definitely come back for another order! "





Anonymous
Duo Arena Boost from 285 to 350
FORTNITE
"Great communication fast completion would highly recommend
"





Anonymous
1 Win Boost
FORTNITE





Daniel
1 Win Boost
FORTNITE
What is Fortnite boosting and how does wins boosting work?
Tired of the endless sweat-fest that is Fortnite? Can't seem to close out that Victory Royale? If you're sick and tired of getting clapped by hackers and RPG spammers, then you've come to the right place. Here at Hero Boosting we provide Fortnite boosting services to help you achieve various Fortnite milestones or even just to help you with mundane in-game tasks like completing Battle Pass challenges.
For our Fortnite wins boosting service, we will help you get wins on your account. It's as simple as that. We'll do it whichever way you want, whether it's to play on your account, or duo/squad up with you and win games together.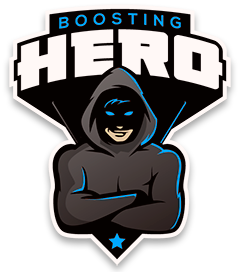 About our Fortnite wins boosting service
Our Fortnite wins boosting service works two different ways. One, we play on your Fortnite account and on the game mode you want us to get wins on. Either solo, duo, squads or any LTM. Two, we can play together with you as a duo or in a squad. Either way, our professional boosters will help you to achieve wins with a good K/D ratio and win rate.
What happens after I make my Fortnite boosting order?
Once you have made your purchase, you will be redirected back from our payment partner and onto your order page. On this page, you will be prompted to give us any info we need in order to start our work.
On this page, you will be able to chat with your booster and leave notes or instructions for him, or schedule your duo queue session if you purchase a duo/squad boosting order.
Frequently Asked Questions
1. Who would be playing on my account, or with me?
Our roster of Fortnite boosters only include the top Fortnite players in terms of K/D ratio and win rates. They undergo a strict vetting process before entering our employ and are further trained to ensure they take good care of our customers and their accounts.
2. If don't want to give access to my account, can we still do this?
Most certainly. We also offer duo/squad Fortnite boosting, so if you prefer that you can check it out over here.
3. Is my Fortnite account safe in your hands?
Of course. We've been operating in this business for years and most of our boosters have been with us for the longest time. We have certain systems in place to make sure things are done properly, and most importantly to keep your accounts safe.
4. Can I get a refund for my order?
We will cancel and refund any order that is not complete. Just get in touch with us and we'll be happy to send you a refund for whichever part of your order that has not been completed yet. For more information on this, you can check out our refund policy page.
5. How long will my order take to complete?
We generally finish all Fortnite orders within the same day of purchase. Of course, this also depends on the size of your order. If you want a more accurate estimation please feel free to get in touch with our support staff on live chat so you can ask how long it would take for the order you have in mind.
6. Once I've made my purchase what happens?
As soon as you have made payment, you will be redirected back to our site and onto your order page. Over here you can give us all the necessary information for us to start working on your order. To get an idea of how this page looks, you can go to this page.
7. There's a problem with my order, what can I do?
If you are having any trouble with your order or booster, please get in touch with our support staff. They are well trained and well equipped to deal with your problem and can help you change your booster if required.
8. Can I watch while the booster plays on my account?
Yes, you can. You can make your purchase with the streaming option. If you purchase with the streaming option your booster will set up a private/unlisted stream for you to watch while he plays on your account. All streaming sessions are automatically converted to VODs so you will be able to watch them at a later time even if you weren't able to watch live.
Why choose Fortnite boosting, and Hero Boosting?
Here at Hero Boosting, we understand that different players enjoy the game differently and also have different levels of commitment for the game. Some might enjoy watching someone play on their account as much as another who enjoys by just doing daily challenges. There are even those who simply don't have the time to grind out the wins or challenges because of work or school. Which is exactly why we decided to provide our Fortnite boosting services.
Our team of professionals have been in the games boosting industry for years, and we've dedicated our time and efforts to helping gamers achieve whatever it is they want in some of the most popular games available online today. If you're having a tough time playing the game or just want to have someone better to group up with, we're here to help! We know what to look out for and we promise you won't be disappointed if you trust us for all your Fortnite boosting needs.