Will the booster play my preferred Legends?
Yes, we offer an option for you to specify which Legend(s) you want your booster to play. Just order with the option selected and you will be able to set your preferences on your order page. You need to provide at least 2, so that your booster can play your 2nd choice in the event that a squadmate picks your 1st choice.
Will the booster appear offline while playing?
This is a given, and most boosters play while appearing offline. If you have further instructions or preferences, you can let us know on your order page once you have ordered. We understand that most customers look for privacy and a discreet service when purchasing from us, and we will do our best to provide just that.
How long will my order take to complete?
It depends on the size of your order, but we generally start within the hour and aim to finish all orders within 12 hours of purchase. If you would like a more accurate estimation, feel free to contact us on live chat to tell us your intended order and we can let you know how long it would take to complete such an order.
"super fast 20kill game, also in process of 20 kill badge unlocked other badges, highly recommend "





Anonymous
20 kills (Legend's Wake) Achievement Badge
"My booster was of great help, and had great communication"





Anonymous
3k damage (Legend's Wrath 3) Achievement Badge
"Best service ever! No.7 is amazing, highly recommended to everyone! :)"





Anonymous
Rank Boost from 12243 to 13243





Anonymous
Rank Boost from 5084 to 7200
"i have tried other boosting services and although they were ok this one was amazing. i had to go from plat to diamond and it was done in under 10 hours. my booster lewis was amazing and super friendly. because of that experience i will be coming back. "





Kenneth
Rank Boost from 6007 to 7200





Anonymous
Rank Boost from 4838 to 7200
"I am a returning customer but No.7 always amazes me! My 1k point order got started from afternoon and finished by night... In Pred Lobbies!!! Best ever, highly recommended! :D"





Anonymous
Rank Boost from 11112 to 12112





AriHak
2k damage (Legend's Wrath 1) Achievement Badge
"Great service, good communication. Would use again!"





Anonymous
Rank Boost from 7676 to 8900
"SLayer did a great job, he carried out my order extremely fast!"





Anonymous
Rank Boost from 6763 to 7200
"Slayer got the job done once again!"





Anonymous
Rank Boost from 6000 to 6700
"Fast and Cracked!! definetly doing business again!"





Anonymous
Rank Boost from 2302 to 3202
"No 7 was my Booster...absolutely Beast in this Game..really kind and fun..was a pleasure to chat with him and watch how he gains Points! Absolutely recommended! 10 Stars! :)"





Anonymous
Rank Boost from 4545 to 7200
"No.7 is truly the No.1.
2k Rp in Pred lobbies farmed in 2 days, this guy is insane!"





Anonymous
Rank Boost from 12000 to 14000





Anonymous
2k damage (Legend's Wrath 1) Achievement Badge
"Overblack the God! Fast and smooth! "





Anonymous
Rank Boost from 8697 to 9000
"Best service ever! No.#7 is amazing!"





Anonymous
Rank Boost from 5840 to 10000





Anonymous
Rank Boost from 2100 to 2800





Anonymous
Rank Boost from 8597 to 8850
"Took much longer then approximated, but good service 👌 "





Anonymous
Rank Boost from 8022 to 8500
What is Apex Legends boosting and how does ranked boosting work?
Are you sick and tired of playing with squad mates who insta drop Skull Town and refuse to cooperate during your ranked games? What about players who don't communicate and steal all your loot and kills? Solo queueing ranked in Apex Legends can be frustrating and a chore at times. This is why we provide our services for Apex Legends ranked boosting.
We understand that not many have the patience to grind out the ranked rewards, have no time or simply can't deal with the stress of ranked queue in Apex Legends. We will help you by giving you a push in the right direction into the rank bracket where you can finally get some decent games going. If you like, we can even push you all the way to the top of the leaderboard, the prestigious Apex Predator rank. It's up to you.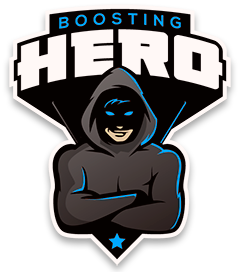 About our Apex Legends Ranked boost service
We guarantee to get you to your desired RP and rank when you use our service. If we fail to deliver, we'll send you a refund no questions asked. If you want to be in Diamond, we'll get you to Diamond. It's as simple as that. We offer various add-ons to go with your boosting order. You can order with streaming and priority completion, for example. We will then set up a private stream for you to watch and also push your order to the top of the queue so it's completed as fast as humanly possible. We recommend purchasing with these options so as to maximize the value of your boost.
What happens after I make my Apex Legends boosting order?
Once you have made your purchase, you will be redirected back to your order page where you can fill up any details we need to start work on your order. For example, if you purchased Apex Legends wins boosting or achievement badges, we will need access to your account. If you purchase duo/squad wins, we only need your Origin ID.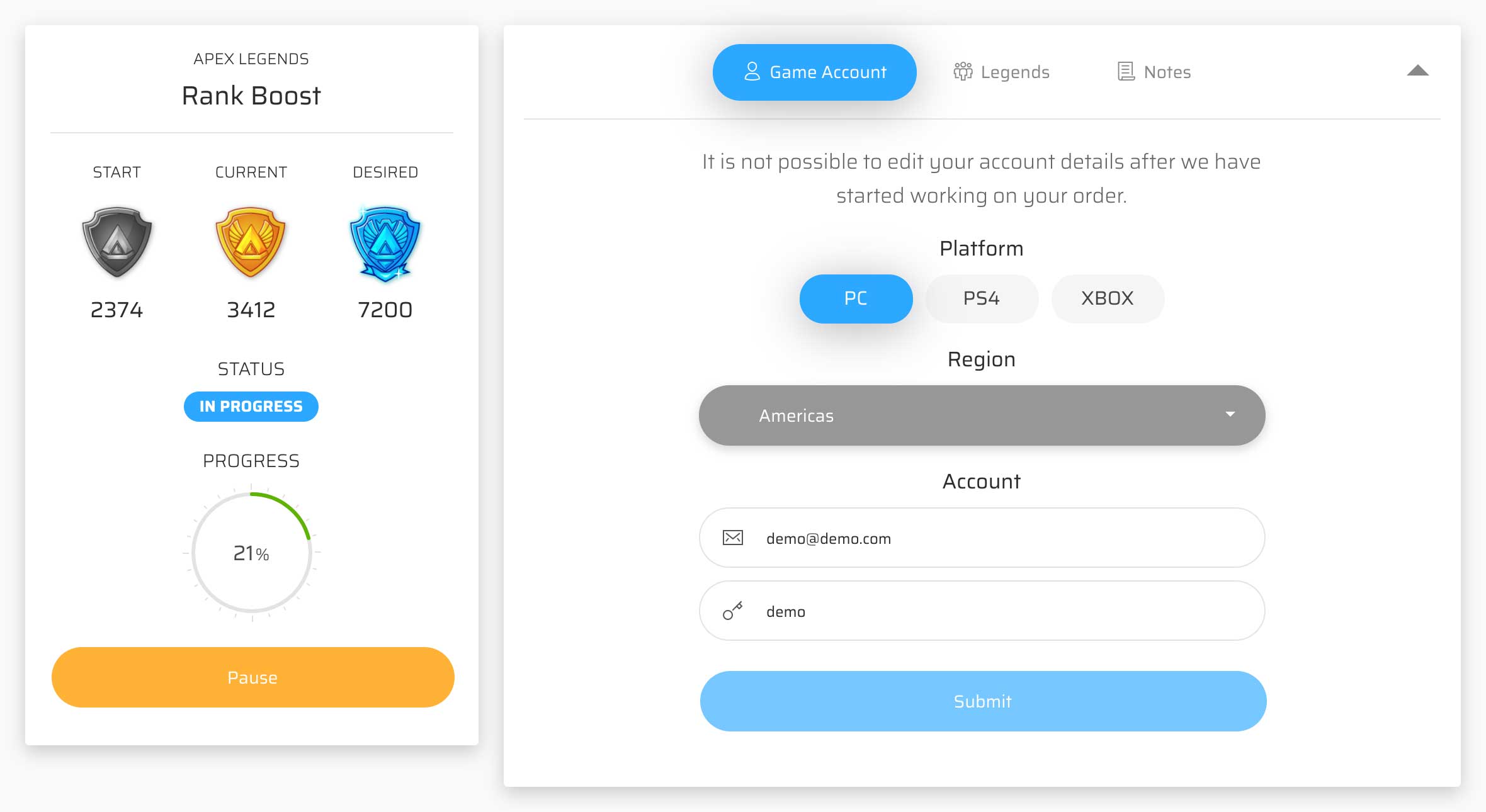 Once we have gotten all the necessary details, we will start working on your Apex Legends boosting order as soon as we can! Most of the time we can start within the hour, and sometimes even within minutes, depending on current order volume and our Apex Legends booster availability.
On this page, you will be able to monitor and track all of your booster's progress. There's even a live chat and an area for you to leave notes or instructions for your booster. At any point in time, if you need help with anything, feel free to use the chat on your order page or get in touch with us via our live support chat.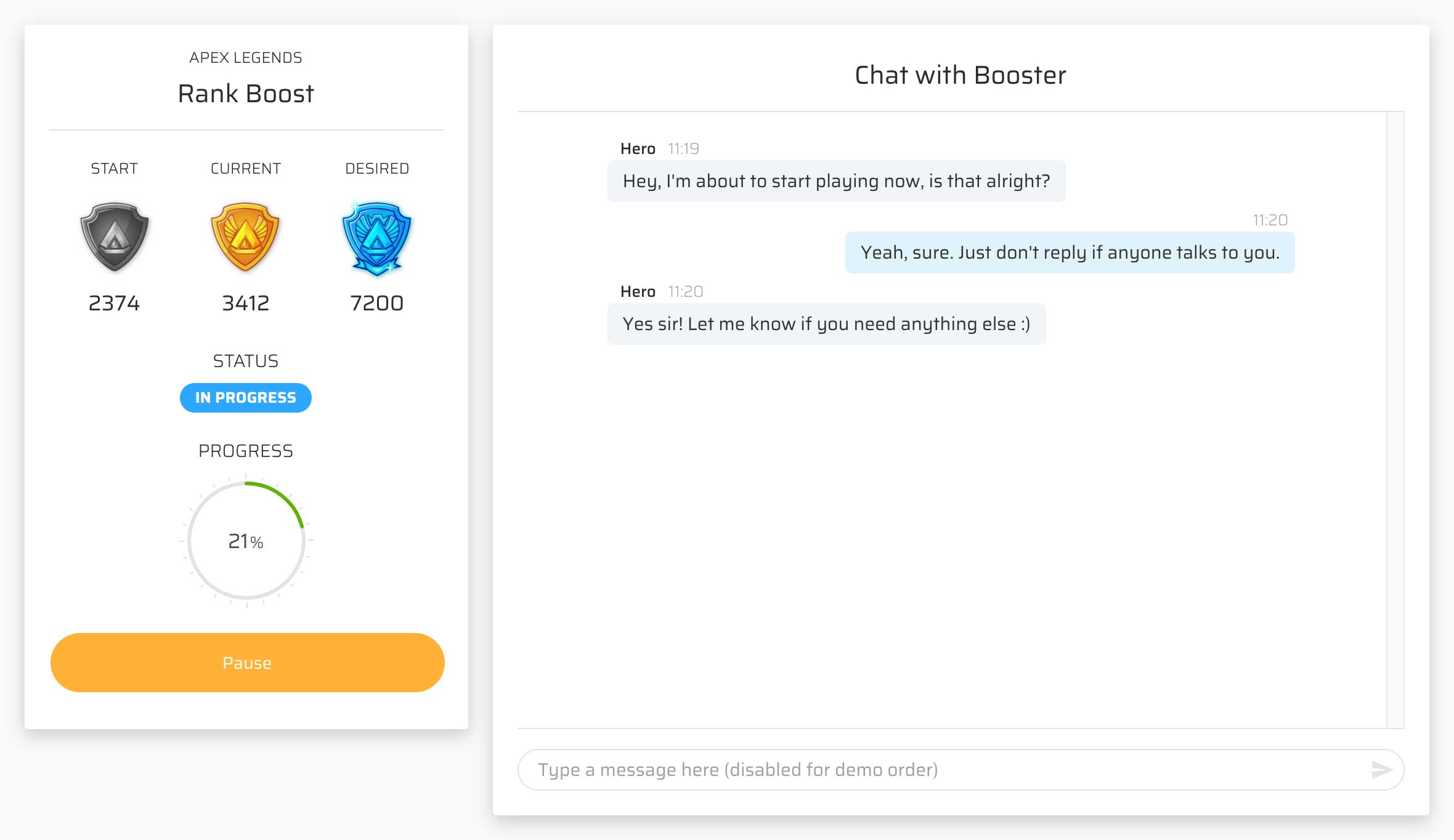 Frequently Asked Questions
1. Who would be playing on my account, or with me?
All our Apex Legends boosters are hired after a stringent vetting process. They are all ranked in Apex Predator and boast incredible K/D ratios and win rates.
2. I don't want to give access to my account, can we still do this?
Of course! We offer a "self-play" add-on with our ranked and win boosting services. You can play from your own account and group up with our boosters if you select this option. However, for kills and achievements boosting, we will need access to your account to do that.
3. Is my Origin account safe in your hands?
Most definitely. Our boosters have been working with us for years, and have very strict instructions to look out for our customers' account security and privacy. Their only job is to login to your account, complete your ordered tasks and then get off.
4. How do you handle refunds?
We will cancel and refund any order as long as you ask for it, and as long as we have not completed it. For more information regarding this, please take a look at our refund policy page.
5. How long will my order take to complete?
We generally finish any order within 12 hours from purchase. Take note that this is a rough estimate, and large orders might take longer to finish.
6. Ok, I've made payment. What now?
After your payment goes through, you will be redirected back to our site and to your order page where you can fill up any information required to start on your boosting order. To get an idea of what this order page looks like, check out this demo page.
7. Can I request for only certain Legends to be played on my account?
Yes, absolutely. We understand that many of our customers want to bump the stats on their main Legend, or simply avoid suspicions from friends. If you purchase with the Legends preferences option, we will make sure we find someone who only plays your preferred Legends while on your account.
8. What if I don't like my booster?
If you are having any trouble with you booster, please get in touch with us on customer support and we will assign someone else to your order, and additionally see what else we can do for you.
9. Can I watch while the booster plays on my account?
Yes, you can. We offer an added streaming option for our customers who like watching their account being worked on. Just make your order with the streaming option selected and your assigned booster will setup a private stream just for you.
Why Apex Legends boosting, and Hero Boosting?
At Hero Boosting, we offer our Apex Legends boosting service to all who need it. We understand that different players have different levels of commitment to the game, and some might not have the patience or time to grind out all the ranked and season rewards. Think about all the time, stress and frustration you're saving by purchasing an Apex Legends boost with us today! Along with all the cosmetics, gun skins and exclusive season loot you would be getting!
What you get from buying an Apex Legends boost from us
The abundance of skill, experience and dedication from our entire team. We have been in the games boosting industry for a long time, and we know exactly how to get things done in a safe, reliable and efficient manner. We know what our customers want, and we make the commitment to deliver on them. If you decide to purchase your Apex Legends boost with us, you will not be disappointed.
As a part of our commitment to the cause and our customers, we have almost 24/7 customer support and boosters available around the clock, worldwide, to attend to your every need. As soon as you make your Apex Legends boosting purchase, all this will become available to you on your order page. If not, you can always get in touch with us on our live chat.
If you are uncertain or have any concerns regarding any of our Apex Legends boosting services, please feel free to talk to us and we'll be happy to help address your questions. You could also take a look at our reviews to get an idea of what our customers think of us. Our reviews are completely uncensored and as a result we leave even the bad reviews for all to read, because they serve as a reminder for us to constantly improve our site and service.
We hope this is enough to convince you and we hope to represent you in-game as your chosen Legend soon!