Black Friday

Sale

— use BF20 promo code for 20% OFF all services

from now till 7 December
How does your Apex Legends kills boosting service work?
We will play on your account to boost your total ordered number of kills with a good K/D ratio. This work is all done manually and by our professional Apex Legends boosters.
How do I keep track of my kills boosting order?
You will have access to an order page after you have made your purchase. Over there you will be able to chat with your assigned booster and also track how many kills have been done in real time.
How long will it take to complete my order?
We boast same day completion for all Apex Legends boosting orders, so unless you're making an unusually large order, you can expect us to finish within hours and within the same day.





Anonymous
Rank Boost from 13102 to 14100





Anonymous
Rank Boost from 11900 to 15000
"HellFire is fast as fuck like a damn flash
"





Anonymous
Rank Boost from 15591 to 20200
"Very fast booster, very good and friendly "





Anonymous
Duo Rank Boost from 8028 to 8428
"Fantastic service and very fast thank you <3"





Anonymous
10 Duo Arenas Placement Matches Boost
"great communication. fast fulfillment "





Anonymous
Rank Boost from 7900 to 8300





Anonymous
Rank Boost from 9167 to 15250
"Great service. Gaining LP every match and climbing fast. Some match getting close to 1000 pts so it will only take a few matches.. darknessLL carrying hard in duos. Highly recommend."





Anonymous
Duo Rank Boost from 4392 to 8200
"FaraFPS work really fast, he gets the job done and will delivered it for you"





Anonymous
Rank Boost from 1344 to 9000





Anonymous
Rank Boost from 12317 to 13100





Anonymous
Rank Boost from 12560 to 13000





Anonymous
Rank Boost from 8420 to 10600





Anonymous
Rank Boost from 7525 to 8500





Anonymous
Duo Rank Boost from 9711 to 11400





Anonymous
Rank Boost from 12640 to 13000
"always done quick, would recommend 100%"





Anonymous
Rank Boost from 10333 to 11400
"Great job super fast, fun to play with"





Anonymous
Duo Rank Boost from 6900 to 7600
"Pompto is amazing for his professionalism and dedication to his help improve others I highly recommend requesting his assistance.
"





Anonymous
Rank Boost from 9000 to 15000
"Hellfire is a very good booster"





Anonymous
Rank Boost from 11540 to 15000





Anonymous
Rank Boost from 13202 to 14000
What is Apex Legends boosting and how does it work?
Playing the game alone can be frustrating at times, and we understand that some players might not even have enough time to grind out the seasonal rewards or even achievement badges. What we offer here at Hero Boosting is a simple solution to give you a helping hand in all these tasks.
Our Apex Legends boost service works in 2 ways. We either play on your account or party up with you in a squad to achieve your goals, be it more wins, kills, or achievement badges. There can be a lot of RNG or luck factors involved when playing by yourself, so by offering our Apex Legends boosting service, we hope to take that variance out of the equation and quickly complete your goals.
We offer a number of premium add-ons that can enhance your boosting experience. For example, you could make your order with the "Legends Preferences" so you can decide which Legend we would play in-game to either boost your stats for that class or simply to avoid suspicion from any friends that you used our Apex Legends boosting service. Feel free to check these options out before you make an order.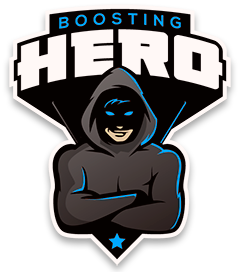 What happens after I make my Apex Legends boosting order?
Once you have made your purchase, you will be redirected back to your order page where you can fill up any details we need to start work on your order. For example, if you purchased Apex Legends wins boosting or achievement badges, we will need access to your account. If you purchase duo/squad wins, we only need your Origin ID.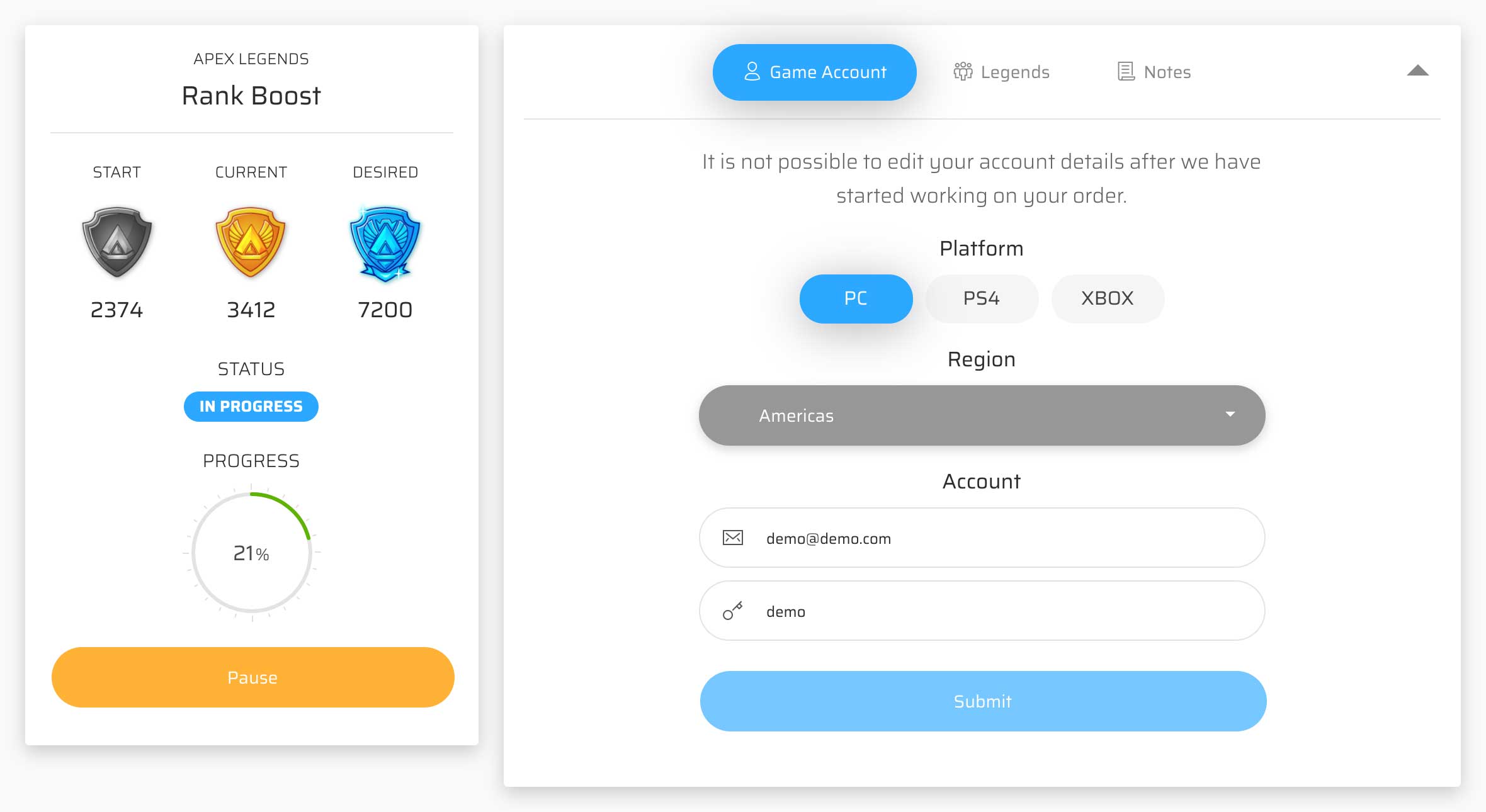 Once we have gotten all the necessary details, we will start working on your Apex Legends boosting order as soon as we can! Most of the time we can start within the hour, and sometimes even within minutes, depending on current order volume and our Apex Legends booster availability.
On this page, you will be able to monitor and track all of your booster's progress. There's even a live chat and an area for you to leave notes or instructions for your booster. At any point in time, if you need help with anything, feel free to use the chat on your order page or get in touch with us via our live support chat.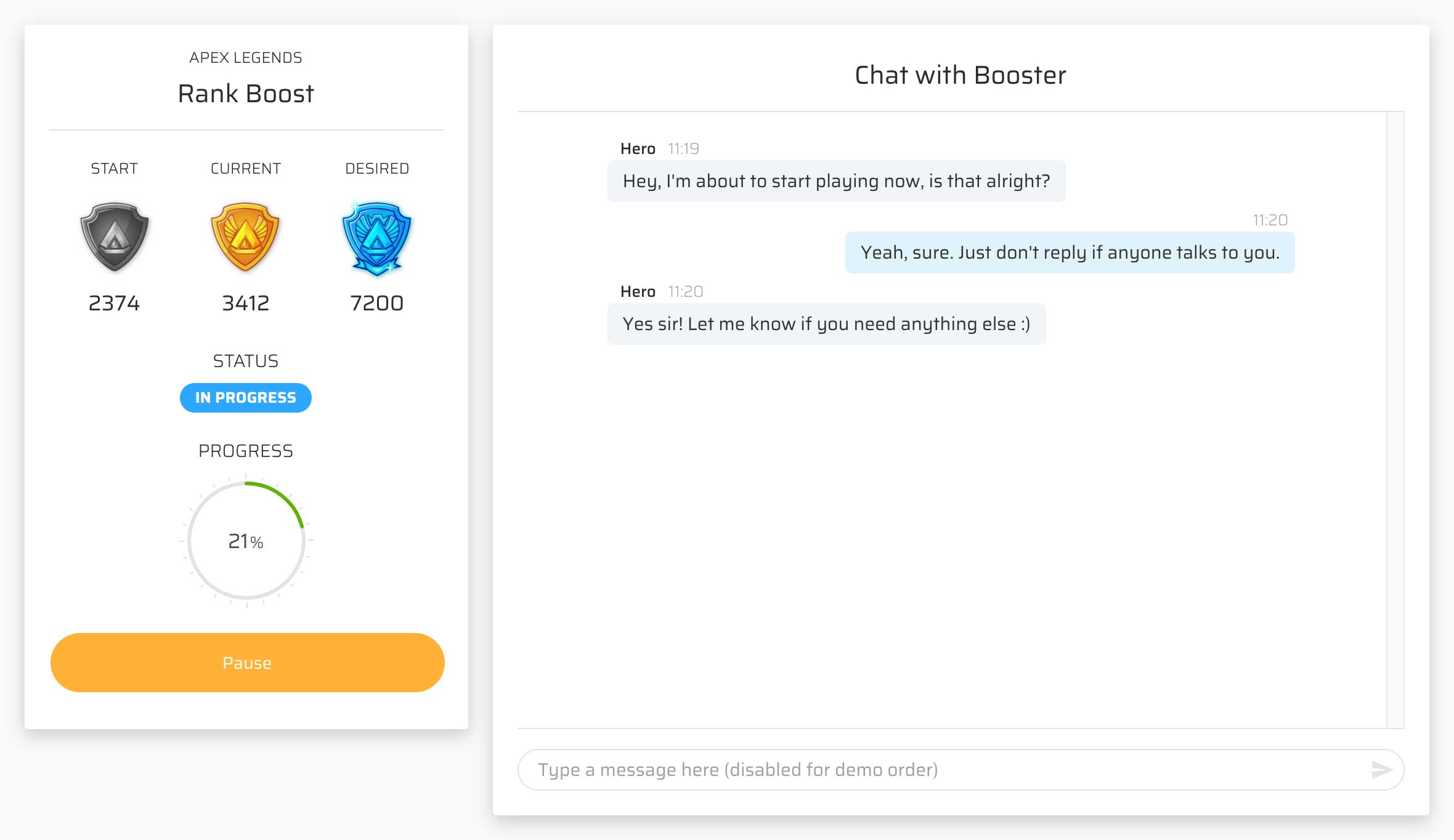 Frequently Asked Questions
1. Who would be playing on my account, or with me?
All our Apex Legends boosters are hired after a stringent vetting process. They are all ranked in Apex Predator and boast incredible K/D ratios and win rates.
2. I don't want to give access to my account, can we still do this?
Of course! We offer a "self-play" add-on with our ranked and win boosting services. You can play from your own account and group up with our boosters if you select this option. However, for kills and achievements boosting, we will need access to your account to do that.
3. Is my Origin account safe in your hands?
Most definitely. Our boosters have been working with us for years, and have very strict instructions to look out for our customers' account security and privacy. Their only job is to login to your account, complete your ordered tasks and then get off.
4. How do you handle refunds?
We will cancel and refund any order as long as you ask for it, and as long as we have not completed it. For more information regarding this, please take a look at our refund policy page.
5. How long will my order take to complete?
We generally finish any order within 12 hours from purchase. Take note that this is a rough estimate, and large orders might take longer to finish.
6. Ok, I've made payment. What now?
After your payment goes through, you will be redirected back to our site and to your order page where you can fill up any information required to start on your boosting order. To get an idea of what this order page looks like, check out this demo page.
7. Can I request for only certain Legends to be played on my account?
Yes, absolutely. We understand that many of our customers want to bump the stats on their main Legend, or simply avoid suspicions from friends. If you purchase with the Legends preferences option, we will make sure we find someone who only plays your preferred Legends while on your account.
8. What if I don't like my booster?
If you are having any trouble with your booster, please get in touch with us on customer support and we will assign someone else to your order, and additionally see what else we can do for you.
9. Can I watch while the booster plays on my account?
Yes, you can. We offer an added streaming option for our customers who like watching their account being worked on. Just make your order with the streaming option selected and your assigned booster will setup a private stream just for you.
Why Apex Legends boosting, and Hero Boosting?
At Hero Boosting, we offer our Apex Legends boosting service to all who need it. We understand that different players have different levels of commitment to the game, and some might not have the patience or time to grind out all the ranked and season rewards. Think about all the time, stress and frustration you're saving by purchasing an Apex Legends boost with us today! Along with all the cosmetics, gun skins and exclusive season loot you would be getting!
What you get from buying an Apex Legends boost from us
The abundance of skill, experience and dedication from our entire team. We have been in the games boosting industry for a long time, and we know exactly how to get things done in a safe, reliable and efficient manner. We know what our customers want, and we make the commitment to deliver on them. If you decide to purchase your Apex Legends boost with us, you will not be disappointed.
As a part of our commitment to the cause and our customers, we have almost 24/7 customer support and boosters available around the clock, worldwide, to attend to your every need. As soon as you make your Apex Legends boosting purchase, all this will become available to you on your order page. If not, you can always get in touch with us on our live chat.
If you are uncertain or have any concerns regarding any of our Apex Legends boosting services, please feel free to talk to us and we'll be happy to help address your questions. You could also take a look at our reviews to get an idea of what our customers think of us. Our reviews are completely uncensored and as a result we leave even the bad reviews for all to read, because they serve as a reminder for us to constantly improve our site and service.
We hope this is enough to convince you and we hope to represent you in-game as your chosen Legend soon!