Stuck in ELO Hell?
At Hero Boosting, we aim to give you a helping hand or just a slight push in the right direction, so you can have a more enjoyable gaming experience, or simply to help you accelerate your ranked progression for seasonal rewards. Check out our lineup of games that we sell boosting and coaching services for below, and we hope we can be of service to you soon!
"Very fast service. Professional, good communication 10/10 would use again. "





Anonymous
Rank Boost from 4872 to 7200





Anonymous
Rank Boost from 7677 to 8100
"so fast give him 5 star for sure"





Anonymous
MMR Boost from 3330 to 4410





Anonymous
MMR Boost from 2240 to 2500
"Happy with the communication and service provided. "





Anonymous
10 Calibration Matches Boost
"Perfect service, it's the second time I use it, and I'm very HAPPY. 🤩🙏"





Anonymous
30 Kills Boost





Anonymous
3 Low Priority Removal Matches





Anonymous
MMR Boost from 2970 to 3250
"Metaphase is a good booster and work hard. I commend him. :)"





Anonymous
MMR Boost from 3620 to 4100
"Everything was amazing. Main reason is a live streaming of the games. Slayerz very good player and very responsible person. I hope to work with your team again soon. "





Kamal Abdullayev
Rank Boost from 7200 to 10000
"C'était super ! le mec était très attentif :) et respectais les pauses."





Anonymous
Elo Boost from Silver II to Gold II





Anonymous
Elo Boost from Platinum III to Platinum II
"Great boost ever. Fast and effective."





Anonymous
Elo Boost from Gold II to Platinum IV
"really quick and did well!"





Anonymous
MMR Boost from 3690 to 4200
"Had to wait a while for the order to be started , but once the booster started playing it was fast and efficient and hardcarried
would recommend if youre not in a rush"





Anonymous
2 Net Wins Boost





Anonymous
2 Net Wins Boost





Anonymous
Rank Boost from 10281 to 11500
"Very helpful tips!
He explained all the things I did wrong and said WHY they were wrong!
That is the most important part honestly.
Very friendly but also professional overall!
Definitely will book again!"





Airborne Yasuo
1 hour of Coaching
"RedNamed was awesome. I was patient with my order and he ended up playing a few games with me to finish! It was a great experience. Highly recommend RedNamed."





P
Rank Boost from 3424 to 4800





Anonymous
2 Net Wins Boost
| Order | Latest Games | Progress |
| --- | --- | --- |
| DOTA 2 | | |
| DOTA 2 | | |
| DOTA 2 | | |
We strive to be a boosting company worthy of your trust
Having been in the boosting industry for years, we understand all our customers' needs and frustrations. Our team consists of only the most skilled and well-trained boosters. Our only priority is to get your boosting order done quickly, securely and without hassle.
Your account's safety
Every booster on our roster is trained and instructed on using VPN software while playing on your account to ensure it's integrity.
Your privacy
We make it a huge point to follow any and all instruction given to us by our customers. Your hero preferences, region, and even timeslots you want us to fulfil your order during.
Support and communication
Your order page is equipped with features to allow for easy communication with us. Or if you prefer, you can also contact us via our live chat and speak to one of our friendly support staff.
Our boosting customer area
Everything you need at the tip of your fingers!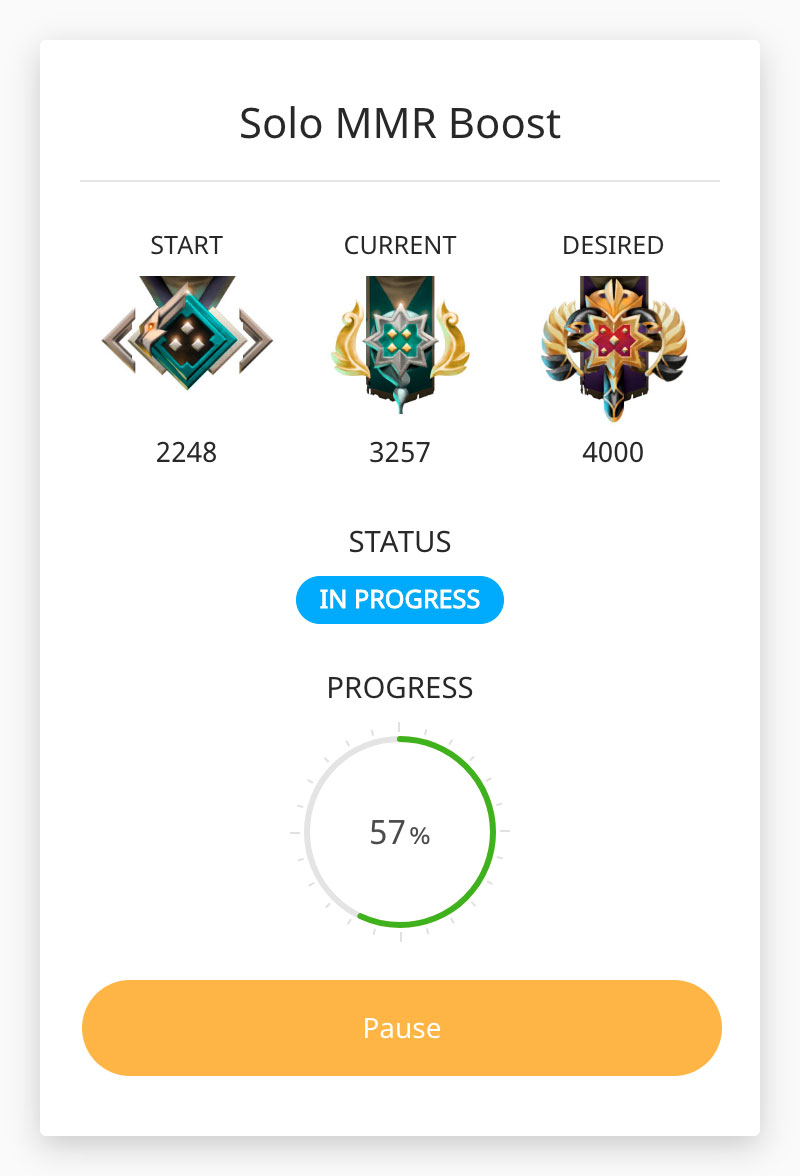 Chat with your booster
A live chat feature that allows you to talk to or instruct your booster at any time.
Manage your hero preferences
Let us know what heroes you usually play so we can fly under the radar, and give a nice boost to your hero statistics at the same time.
Track your order progress
You can see everything here. From your MMR gain per match, to the hero that your booster has played. It is all updated in real-time.