SERVER
ORDER
QUEUE
OPTIONS




How does this work?
Our skilled LoL boosters will play on your account to get you to your desired rank as fast as humanly possible, and with good stats to boot. Our placement boost service is for those who don't want to deal with the stress of doing placements or simply want someone good to do it for them to ensure the best result.
Is my account safe?
Yes, most definitely. All our boosters play with VPN enabled to simulate playing from your country, and we take any and all necessary actions to protect your privacy and the integrity of your account. Furthermore, it is impossible to make any changes to your account or steal it as we do not have access to the email associated with your LoL account. If you are still worried, you can make your order with the duo queue option.
* How many games will you win?
We guarantee at least a 60% win rate, or 80% for Gold rank and below. For every win we fall short of, we will give you an extra 2 net wins. This only applies for our piloted service where we play on your account. If you purchase duo placements, we do not guarantee any win rate, and the win rate guarantee only applies to purchases of the full 5 placement games.





Anonymous
1 Net Win Boost
"JianPierre great booster !! Nice win rate 100 %. Very fast delivery."





Anonymous
Elo Boost from Gold IV to Gold III





Anonymous
3 Duo Net Wins Boost
"Sushi is very professional, easy to talk to, and friendly. Highly recommend "





Anonymous
1 Duo Net Win Boost
"Awesome booster, Quick and great player !"





af95
Elo Boost from Emerald I to Diamond IV
"very nice booster, thank you."





Anonymous
5 Placement Games Boost





Anonymous
5 Placement Games Boost





Anonymous
Elo Boost from Diamond III to Diamond II





Kostas
Elo Boost from Emerald II to Diamond IV





Anonymous
5 Net Wins Boost





Anonymous
4 Net Wins Boost





Anonymous
3 Net Wins Boost
"Was pretty good, got matched up with some really bad players so can't really blame for losses. "





Anonymous
5 Placement Games Boost
"Really good job thank you
"





Anonymous
Elo Boost from Gold II to Platinum IV





Anonymous
Elo Boost from Platinum I to Emerald IV
"Buho is very fast and reliable booster ! 100% win rate.
Recomended."





Anonymous
Elo Boost from Silver II to Gold IV





Anonymous
2 Net Wins Boost





Anonymous
5 Net Wins Boost





Anonymous
1 Net Win Boost





Anonymous
5 Net Wins Boost
What is elo boosting and how does your placement boost service work?
Placements can be a pain to do sometimes. You never know when your bad luck can strike, and the stress might affect your usual gameplay. We offer our placement boosting service to take the burden off you, and help you get the best placement result.
We will simply log in to your account and play out your placements for you. We guarantee at least a 60% win rate, or 80% for Gold rank and below. If you prefer to not give your account details, you can opt for duo and make your purchase with the "duo queue" add-on. Do take note, the win rate guarantee does not apply for duo placements.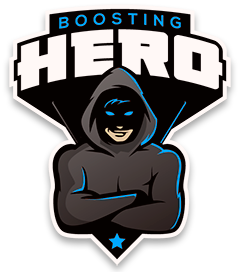 About our League of Legends placement boosting service
Our placement boost service begins as soon as you have made your purchase. You will be sent to an order page where you can give us any details required for us to start on your order. You can also chat with your booster on this page. All necessary measures to make sure your account is safe will be taken. Boosters will use a VPN to imitate your location, and will only get on your account to carry out their boosting duties. As soon as they are done, you will be notified on your order page and via email. The entire process is smooth, professional and fast.
I've made my elo boosting order, what now?
Immediately after you make payment, we will send you to your order page where you can input your account details so we can log in and start work. Your account is protected at all times through VPN and encryption.
Over here on this page you will be able to chat with your booster, manage your order preferences and leave instructions or notes related to your order. On top of your order page, if you require any assistance you are free to contact us on our live customer chat support. We are available around the clock, 7 days a week.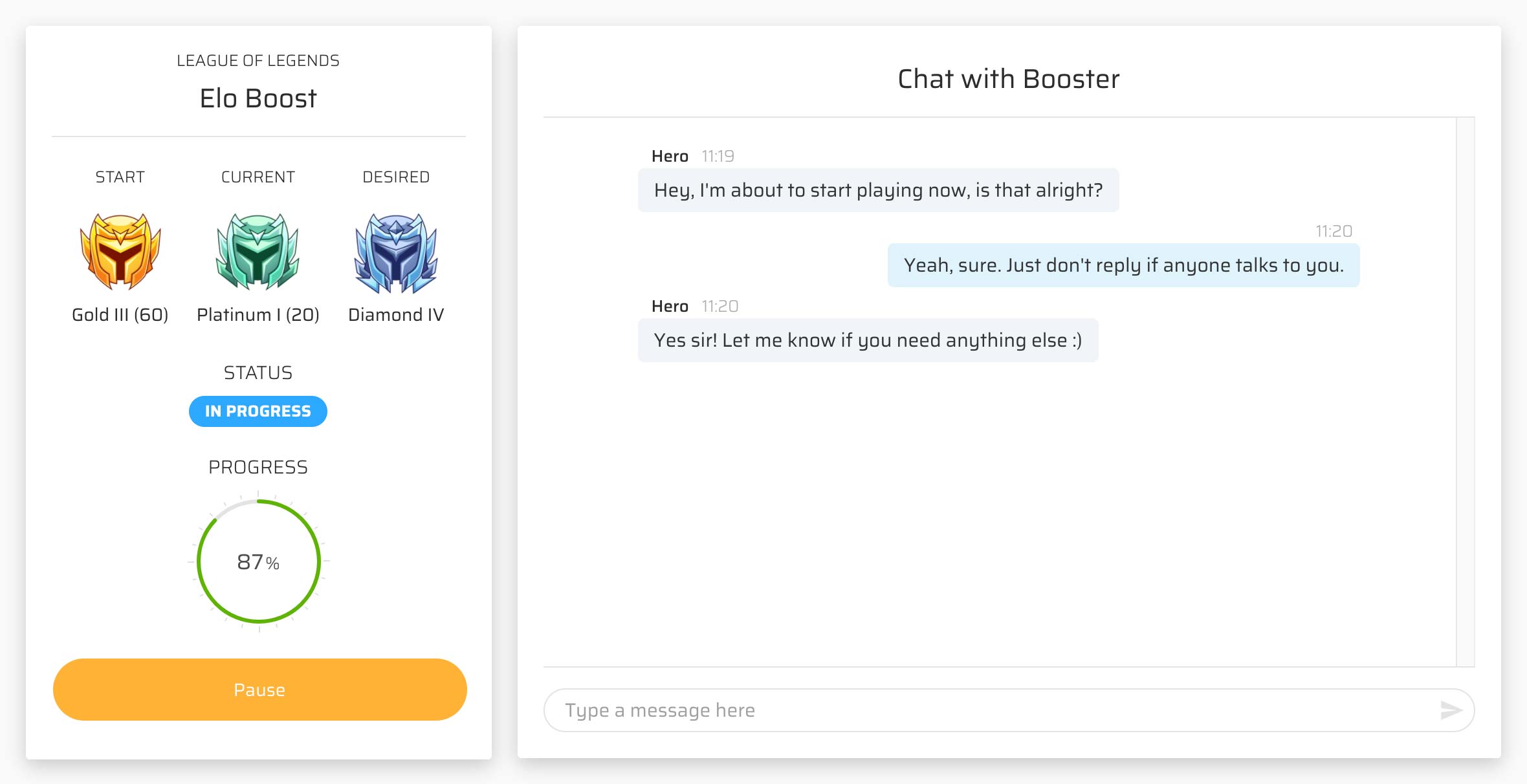 Frequently Asked Questions
1. Who would be playing on my account?
Our LoL boosters are hired only after a strict selection process. We screen all aspects of them as a player, not limited to just their skill but we also sure we hire boosters with the best working attitudes and those who aren't toxic in nature.
2. I don't want to give access to my account, can we still do this?
Of course, we also offer various "duo queue" options where you can group up with our booster to play out your order. Depending on whether you want a guaranteed rank or simply want to play a few games casually together with a booster, we have different options for you to choose from.
3. Is my League of Legends account safe in your hands?
Without a doubt, yes. We have been in the boosting industry for years. We started with Overwatch and eventually expanded to many other games. Our reputation thus far has been squeaky clean because we take absolute care with all our customers. Both your privacy and account safety are our top priority.
4. How do you handle refunds?
As long as your order is not completed, if you wish to cancel or refund your order, just get in touch with us and we'll send you a refund no questions asked. To learn more, check out our refund policy page.
5. How long will my order take to complete?
That would depend on how big of an order you are making. We display an approximate completion time when you are about to complete your purchase, but if you wish for a more accurate estimate for your order you can contact us on customer support.
6. Ok, I've made payment. What now?
After your payment goes through, you will be redirected back to our site and to your order page where you can fill up any information required to start on your boosting order. To get an idea of what this order page looks like, check out this demo page.
7. What if I don't like my booster?
If you are having any trouble with your booster, please get in touch with us on customer support and we will assign someone else to your order, and additionally see what else we can do for you.
8. Can I watch while the booster plays on my account?
Yes, you can simply spectate us from another account. However, if you prefer to watch without the spectator's delay, we offer an added streaming option. Just make your order with the streaming option selected and your assigned booster will setup a private stream just for you.
Why LoL elo boost, and Hero Boosting?
Here at Hero Boosting, we understand all your needs as a customer. We realize that different people have different levels of commitment for any game, and also have different ways of enjoying a game. We do our best to provide a safe and quality service for those who do not have time to grind to their goal, those who simply want a shortcut, and also those who want to cut out a frustrating aspect of the game. If you fit into any of the above categories, you are in safe hands. We assure you that your elo boosting order could not go any better at any other site.
What you get from buying elo boosting services from us
We have been doing game boosting for a long time, and as much as there are people who hate us, there are also many customers who appreciate what we do. The only way we know how to reciprocate would be to offer the best boosting services possible. That means making sure that you can have a peace of mind and are 100% satisfied with any LoL boosting order you make on our site.
Part of our dedication and commitment is our promise to provide 24/7 customer support and boosters from all around the world who can service you. This means that you are always connected to the most suitable boosters and people who can communicate effectively with you. Whenever you decide to purchase your LoL boost, we will be here. You can reach us on your order page or on our live chat support.
If you have any concerns or questions about your LoL elo boosting order, you can contact us at any time and we will be happy to help you out. If you like, you can also take a look at our reviews to get an idea of what our customers think of us. They are completely uncensored and written by real customers who have left reviews once their orders were complete. You might even catch some bad reviews mixed in with the lot. We leave them there as a reminder for ourselves to improve constantly and to become the best boosting site worthy of our customers.
We hope that all this is enough to convince you and we look forward to working on your elo boosting order soon!