Black Friday

Sale

— use BF20 promo code for 20% OFF all services

from now till 7 December
Is my Steam inventory safe?
Yes, 100%. Our Dota 2 boosters are well trained and professional enough to only focus on their job. Furthermore, Steam guard/authenticator will safeguard your inventory at all times. There is no way someone can take any of your items without access to your phone.
Can I party with the booster while on my own account?
Sure, you can. We offer "duo queue" or "party with booster" add-on for our Dota 2 MMR Boost service. Just purchase with this option and we will group up with you while you play on your account until we achieve your desired rank.
How long will it take to complete my order?
Once you have purchased, we typically start within 30 mins to an hour and finish most orders within 12 hours (unless you make a really big order). If you purchased the duo queue option, your booster will be in touch with you within 1 to 2 hours and you can schedule with him when you would prefer to play together.
"This is my first time using this service, and I am thrilled with it. Bessemer is amazing! He is such a friendly and helpful guy. We communicated daily, and he was diligent and super quick at boosting my MMR. I would recommend this service to anyone who needs help and would come back again."





Anonymous
MMR Boost from 240 to 3500
"Great boost for calibration! Thx to the boosters"





Vlad
7 Duo Calibration Matches Boost
"Best service, fast and reliable!! "





Amateratsu
MMR Boost from 4110 to 4210
"Bubble dominates. 12-0 duo boost at divine rank."





Anonymous
Duo MMR Boost from 4350 to 4650
"It was a good and smooth experience"





Julian
MMR Boost from 3480 to 3800





Anonymous
MMR Boost from 3640 to 4100





Anonymous
MMR Boost from 4570 to 4900
"5/5 for my Booster Warmuper but 1/5 for waiting for a booster. It takes more than a day. Overall my Booster is excellent and reliable. Good job"





Z
MMR Boost from 3730 to 4000
"Thanks a lot for service!"





Anonymous
2 Low Priority Removal Matches





Anonymous
MMR Boost from 1200 to 2700





Anonymous
MMR Boost from 1300 to 1800





Anonymous
MMR Boost from 1370 to 2000
"This is my second experience with the same Booster, and despite the fact that it took a little longer than expected, I am very satisfied with the work done, would I do it again? well without a doubt."





Anonymous
MMR Boost from 3180 to 3320





Mickey
Duo MMR Boost from 3440 to 3800
"Great booster , thank you !"





Anonymous
MMR Boost from 2570 to 3200





Anonymous
MMR Boost from 1570 to 2000
"Nice booster..so fast and efficient..sunshine is a great booster"





Anonymous
MMR Boost from 660 to 1200
"very professional boosters (TY Peeen), great communication and always reply quickly. would recommend and use again without hesitation.

Thanks again guys. <3"





Anonymous
MMR Boost from 100 to 1200





Anonymous
MMR Boost from 3800 to 4500
"Good communication, fast service!"





Anonymous
MMR Boost from 2000 to 2770
What is Dota 2 MMR Boosting and how does it work?
We understand that not all players have the time or patience to grind out the ranked rewards. Not to mention all the toxic trolls that plague the ranked ladder in Dota 2. Therefore, we're here to offer our help with our Dota 2 boosting service! If you are too busy with work to play, or just can't stand all the griefers in your games, we have the perfect solution for you.
Our Dota 2 MMR boost service works in 2 ways. We either play on your account, or we party with you while you play on your account until we get you to your desired MMR. Both ways work just as well, so we'll leave it up to you how you want to get things done!
We also offer a multitude of add-ons and options that you can add at your own discretion. We strongly recommend that you purchase with some of these options to get the most value out of your order. For example, you could purchase with "Hero Preferences" so you can instruct us to only play the heroes you play, which will help you avoid all suspicion from your friends and also give your statistics a nice boost.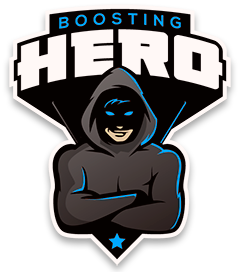 What happens after I make a Dota 2 boost purchase?
After you have made payment, you will be redirected back to our site and onto your order page where you can fill out all the information we will need to start working on your order. Take note that for our "duo queue" or "party with booster" services, we do not require your login information. Just your Friend ID or Steam ID so we can add you in-game or on Steam to get in touch with you.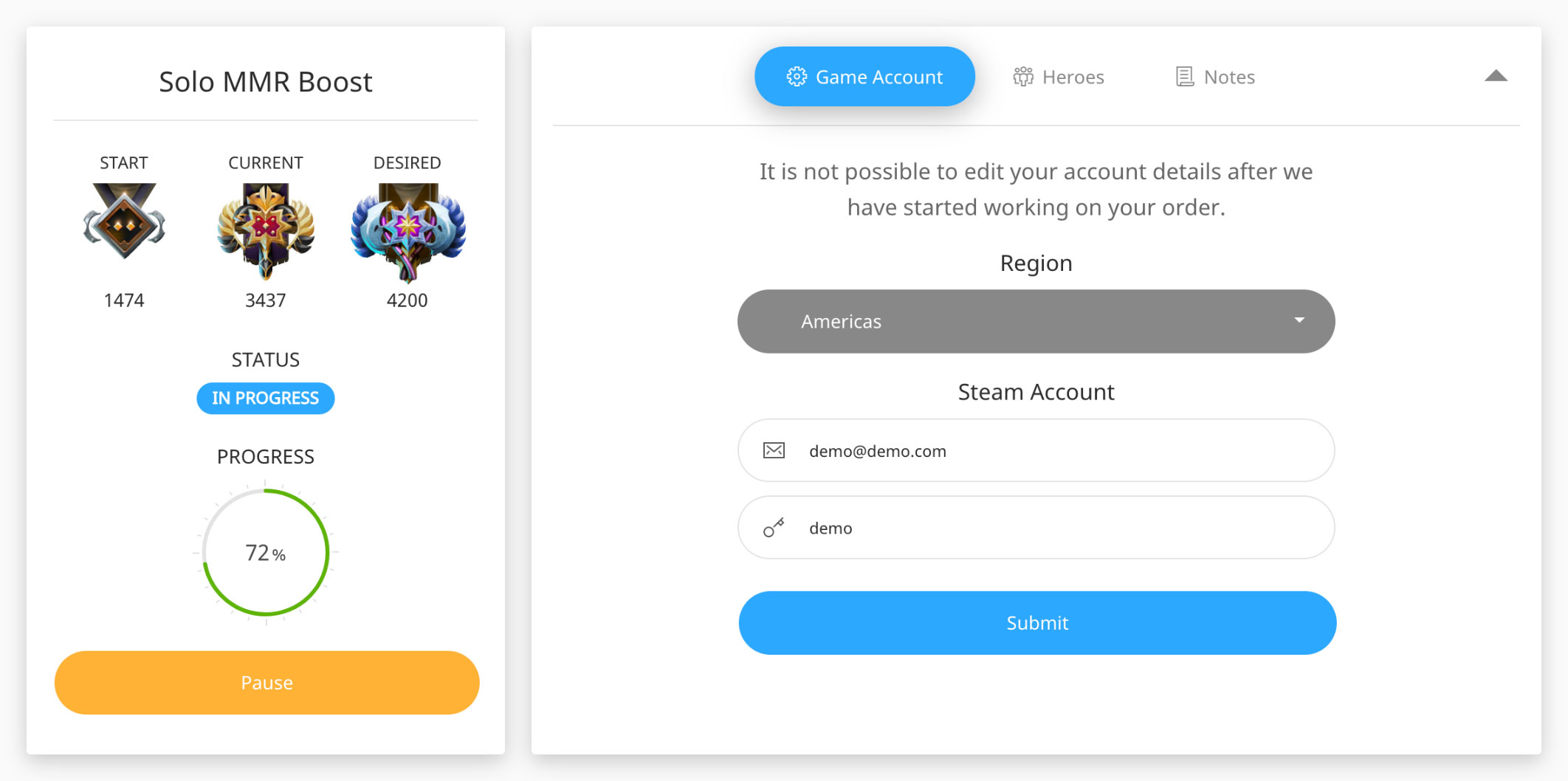 Once we have gotten all the necessary details, we will start working on your Dota 2 boosting order ASAP! This can even be a matter of minutes depending on our availability and current workload.
You can track all of your order's progress from this page. If you need anything, your booster will also be available here on the chat. Feel free to leave your instructions and to also set your hero preferences, if any.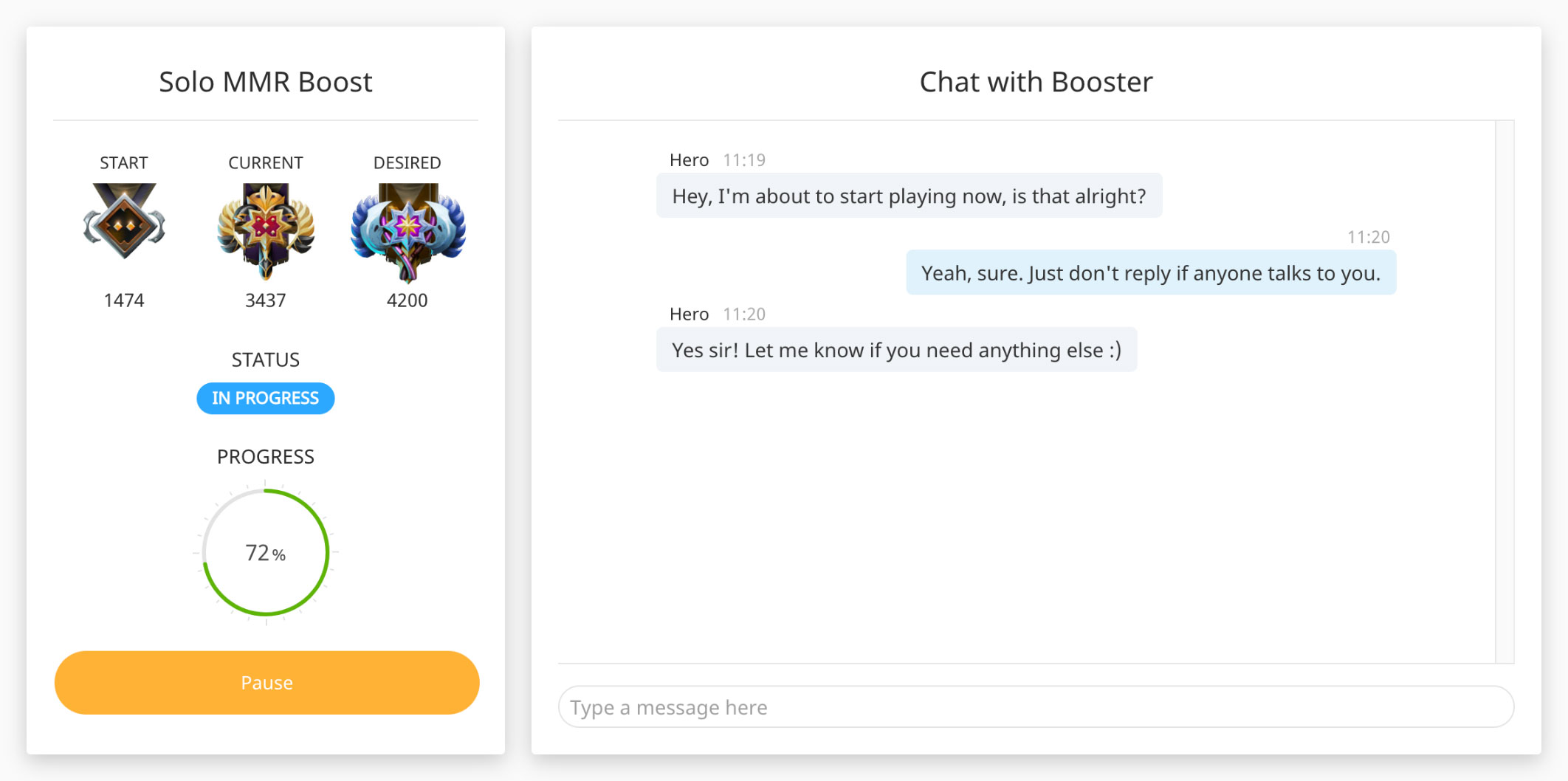 Frequently Asked Questions
1. Who would be playing on my account, or with me?
All our boosters are ranked at Divine or Divine Elite. We only hire them after a stringent vetting process to make sure our roster consists of the most skilled boosters who also have the best work ethic.
2. Is my Steam account safe?
Definitely. We take account security very seriously, and we have strict instructions for our boosters to follow regarding all customer accounts. Furthermore, your account is protected by the Steam guard/authenticator which means we cannot move items from your inventory or make trades without access to your mobile phone.
3. If I don't want to give you access to my Steam account, is there still some way to do this?
Yes, you can purchase our duo queue service by selecting the "Duo Queue" option before checkout. We will then pair you up with one of our boosters to play together in a party.
4. How do you handle refunds?
We will cancel and refund any order as long as you ask for it, and as long as we have not completed it. For more information regarding this, please take a look at our refund policy page.
5. How long will my order take to complete?
We generally finish any order within 12 hours from purchase. Take note that this is a rough estimate, and large orders might take longer to finish.
6. Ok, I've made payment. What now?
After your payment goes through, you will be redirected back to our site and to your order page where you can fill up any information required to start on your boost. To get an idea of what this order page looks like, check out this order page demo.
7. Can I request for only certain heroes to be played on my account?
Yes, absolutely. Just make sure you select the "Hero Preferences" option before you checkout. Then on your order page there will be a section for you to input your preferred heroes. Your booster will follow this guideline 100% of the time.
8. What if I don't like my booster?
If you are having any trouble with your booster, please get in touch with us on customer support and we will assign someone else to your order, and additionally see what else we can do.
9. Can I watch while the booster plays on my account?
Sure you can, just add your account from another one and you can spectate the matches from in-game. If you prefer to watch without the delay and have a live interaction with the booster, you can make your purchase with the "Streaming" option.
Why Dota 2 MMR Boosting and with Hero Boosting?
At Hero Boosting we offer our services to all who need it. Whether you don't have the time to play, or you simply can't stand the horrible ladder games filled with trolls and toxic bullies anymore. Even if you're looking at it solely from a practical standpoint, it's just that much more efficient! We work fast and we'll get all those ranked rewards for you in the blink of an eye. Think about all the items and cosmetics you're missing out on by not buying a Dota 2 MMR boost with us.
What you do get from buying a Dota 2 Boost with Hero Boosting
The dedication and 100% of our team's commitment to serving you. We have been in the games boosting industry for a long time so we know exactly what our customers want, and how to achieve that in the way that benefits them the most. If you choose us for all your Dota 2 boosting needs, you will not be disappointed.
As a part of our commitment to helping you achieve all your Dota 2 ranked desires, we have almost 24/7 customer support and professional boosters available worldwide every day, every hour of the day waiting to service your every need. If you make your Dota 2 boosting purchase here at Hero Boosting, all of this will be available to you at a moment's notice.
If you're uncertain or skeptical of our Dota 2 boosting service at any point in time, we encourage you to get in touch with us or to take a look at our reviews. They are all written by our paying customers and completely uncensored. Yes, we even leave the bad reviews there for all to see. Even we make mistakes sometimes, but we're always striving to correct ourselves and be better.
When all that's said and done, everything we do is for you, the customer. If we have convinced you, we hope to see you soon after you make your very first Dota 2 boosting order with us. Rest assured, you will not regret it!