Is my Steam inventory safe?
Yes, 100%. Our Dota 2 boosters are well trained and professional enough to only focus on their job. Furthermore, Steam guard/authenticator will safeguard your inventory at all times. There is no way someone can take any of your items without access to your phone.
How do I check my Battle Cup tier?
When you're logged in to Dota 2, click on "Play Now" and then "Battle Cup". Over there you will be able to see what tier you are.
Am I guaranteed the Battle Cup Champion and rewards?
Yes. All our boosters are 7k+ MMR players and can easily help you achieve Battle Cup Champion along with the rewards. If we somehow fail, we'll send you a full refund.
"Achei que era falso mas o cara fazem bom serviço mesmo galera br pode confiar neles tranquilo! Tmj :D "





Galeroso
MMR Boost from 1760 to 2100
"The best booster and best boosting service"





Anonymous
10 Calibration Matches Boost
"Face pace fast response, very good and affordable, friendly"





Anonymous
8 Calibration Matches Boost





Anonymous
MMR Boost from 1080 to 1350





Anonymous
MMR Boost from 4150 to 4500
"Bang is the best booster and very friendly."





Anonymous
MMR Boost from 2960 to 3800
"Sunshine was very nice, and was able to finish really quick! 5/5"





Osva
9 Calibration Matches Boost
"Friendly and fast service
Highly recommended"





4900-5700
MMR Boost from 4930 to 5700





Anonymous
MMR Boost from 10 to 800
"Commend TrueBrainless. Friendly, easygoing and fast."





Anonymous
MMR Boost from 5320 to 5470





Omar
Duo MMR Boost from 3900 to 4300
"Freindly booster but waited 4ever."





Anonymous
2 Low Priority Removal Matches
"Great service, perfect conduct summary.
Highly recommend!"





Ben
MMR Boost from 1470 to 3000





NA
6 Calibration Matches Boost
"My Booster "Warmuper" did a great job! He was very professional with nice communication and also always available on the agreed date / time to play some games. We had a 100% winrate as well ;)"





Anonymous
Duo MMR Boost from 2750 to 3110
"Very professional and polite guy, he completed the order earlier than expected. 100% would recomend."





Anonymous
MMR Boost from 1600 to 2400
"BangLD delivered service with quick succession. Very impressed with his skills. Highly recommend him."





Anonymous
MMR Boost from 3590 to 3850
" My Experience was excellent, I would highly recommend TrueBrainless as Dota 2 MMR booster. He is very polite and kind.
The games were very efficient and precise. Overall communication was absolutely nice. At no point did I incur any problems of any kind. Do not hesitate to opt for assistance from... "
Read full review





Anonymous
Duo MMR Boost from 3250 to 4310





Anonymous
MMR Boost from 2550 to 2900
"payed 10 games, played 3 win and 1 loss."





im out
Duo MMR Boost from 2800 to 3000
What is Dota 2 Battle Cup Boosting and how does it work?
The Weekend Battle Cup is a weekly tournament that runs itself on the Dota 2 client. You can get special rewards by competing and winning. Our Battle Cup boosting service makes it easy for players who don't have the time or just don't have the team mates required to compete and win with. Our professional Dota 2 boosters will log into your account and help you to achieve champion status, earning you all the sweet rewards.
Our Battle Cup boosting service comes with a guarantee which means that we will complete and achieve the rewards for you. If we fail to do so, we will send you a full refund, or complete it the next week. To purchase this service, just make sure your account is eligible for participation and also let us know your current Battle Cup tier.
Once your order is complete, enjoy your new trophy, 20,000 shards, special emoticons, and a nice shiny badge on your profile that says you're a Battle Cup Champion!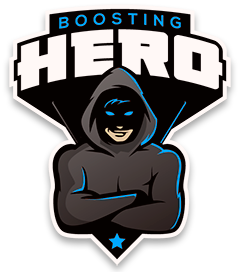 What happens after I make my Dota 2 boost order?
When you have made payment on one of our payment processing partners, you will be sent back here to your order page where you just need to give us your account details. Once we have all we need, we will start work on your order and this is usually within the hour or if you caught us at a good time, even within minutes.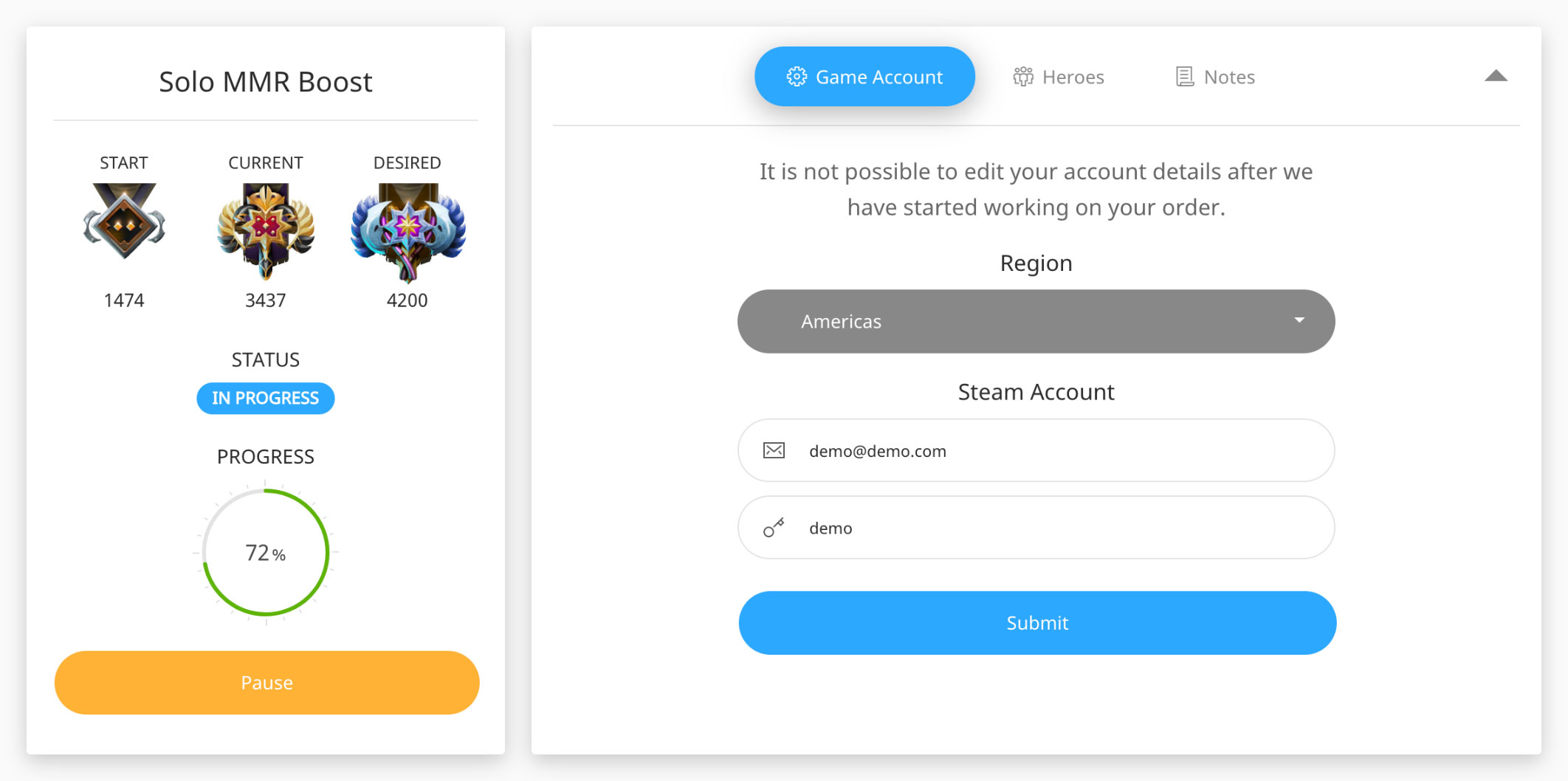 On this page, you'll be able to monitor your order and account's progress and also chat with your assigned booster. You can also adjust your hero preferences (if any), and make notes/instructions to your booster here.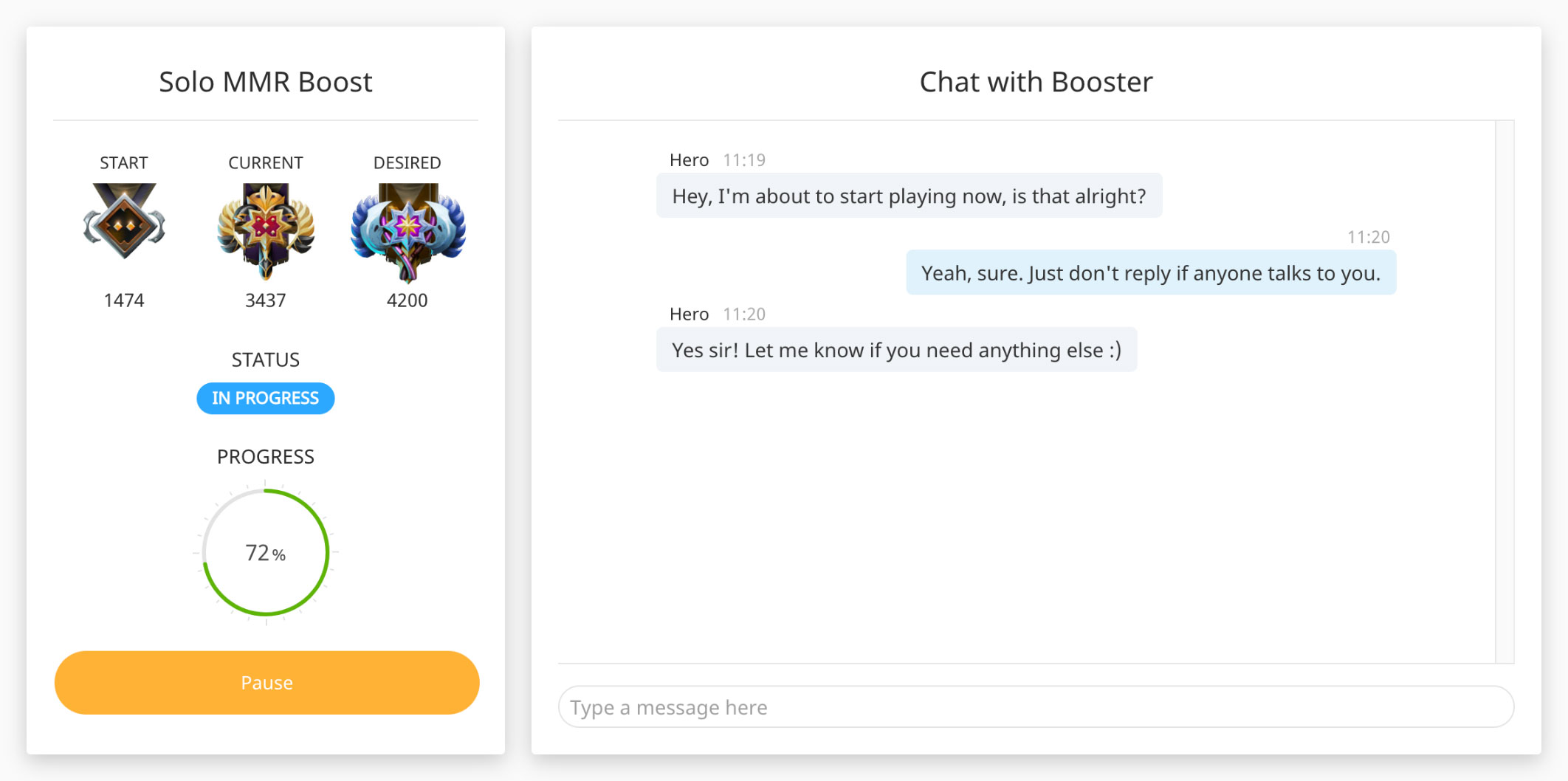 Frequently Asked Questions
1. Who would be playing on my account, or with me?
All our boosters are ranked at Divine or Divine Elite. We only hire them after a stringent vetting process to make sure our roster consists of the most skilled boosters who also have the best work ethic.
2. Is my Steam account safe?
Definitely. We take account security very seriously, and we have strict instructions for our boosters to follow regarding all customer accounts. Furthermore, your account is protected by the Steam guard/authenticator which means we cannot move items from your inventory or make trades without access to your mobile phone.
3. If I don't want to give you access to my Steam account, is there still some way to do this?
Yes, you can purchase our duo queue service by selecting the "Duo Queue" option before checkout. We will then pair you up with one of our boosters to play together in a party.
4. How do you handle refunds?
We will cancel and refund any order as long as you ask for it, and as long as we have not completed it. For more information regarding this, please take a look at our refund policy page.
5. How long will my order take to complete?
We generally finish any order within 12 hours from purchase. Take note that this is a rough estimate, and large orders might take longer to finish.
6. Ok, I've made payment. What now?
After your payment goes through, you will be redirected back to our site and to your order page where you can fill up any information required to start on your boost. To get an idea of what this order page looks like, check out this order page demo.
7. Can I request for only certain heroes to be played on my account?
Yes, absolutely. Just make sure you select the "Hero Preferences" option before you checkout. Then on your order page there will be a section for you to input your preferred heroes. Your booster will follow this guideline 100% of the time.
8. What if I don't like my booster?
If you are having any trouble with your booster, please get in touch with us on customer support and we will assign someone else to your order, and additionally see what else we can do.
9. Can I watch while the booster plays on my account?
Sure you can, just add your account from another one and you can spectate the matches from in-game. If you prefer to watch without the delay and have a live interaction with the booster, you can make your purchase with the "Streaming" option.
Why Dota 2 Calibration Boosting and with Hero Boosting?
We know that being stuck in MMR hell is a massive pain point for a lot of customers. This is the same across all types of games with a ranked system, and we know this well because we've been in the boosting industry for a long time. We offer our Dota 2 boost service to all who need it. Whether it's to get out of the hellhole toxic bracket or to achieve all the ranked item and cosmetic rewards, that's exactly what we're here for so you don't have to worry about anything if you purchase our Dota 2 boosting services!
What you do get from ordering a Dota 2 Boost with Hero Boosting
The full and unreserved dedication of every member of the Hero Boosting team. Being in the games boosting industry for more than 5 years now, we know exactly what all our customers need and how to fulfil those needs. If you make us your choice for any of your Dota 2 boosting needs, you will not be disappointed.
On top of that, we have almost 24/7 customer support on our site, and Dota 2 boosters available throughout the world and available at a moment's notice. All this so we can help to relieve any of our customers' worries and concerns when they make any Dota 2 boosting purchase here at Hero Boosting.
If you need help or are still uncertain about any part of our Dota 2 boosting service, we encourage you to get in touch with our live chat support, or to read the reviews on our site that are all 100% legit and written by our paying customers. You are free to filter through and even to only read the bad reviews. We leave those there as a reminder for us to keep striving for the best and to never stop improving our services. Whether it's just Dota 2 boosting or boosting in general. We aim to become recognized as the best boosting company in the world.
We hope to see you soon after you order your first Dota 2 boost with us! Let us prove to you that we are the best, because you deserve the best.